June 2022
What are the oceans like on planets beyond Earth? On this episode of Star Talk, Neil deGrasse Tyson explores the oceans of Earth and other planets in the search for alien life together with Exploring Ocean Worlds lead investigators Julie Huber (WHOI) and Kevin Hand (NASA-JPL) along with comedian guests Eugene Mirman (Bob's Burgers), Ellie Kemper (Kimmy Schmidt), and John Mulaney (Documentary Now!)
4/14/2021

Harvard Graduate School of Arts and Sciences
In the first episode on our Earth and Space Series, we heard a little bit about how research on Earth's oceans has had major implications for the search for life in the cosmos. Here, we've published an extended interview with a pioneer in this area of exploration: Dr. Christopher German.
11/6/2020

Wave Glider provides gateway to remote exploration 
Woods Hole Oceanographic Institution
In August 2021, WHOI geochemist Chris German will test an autonomous surface vehicle (ASV) called a Wave Glider while exploring the East Pacific Rise, a submarine volcanic chain in the southeastern Pacific Ocean.
Spring 2020

Oceanus 
One of the oldest questions facing humanity is whether we are alone in the universe. Now, thanks to a richer understanding of the conditions that support life in our own ocean, we have an opportunity to answer that question, and to do so within the lifetime of the current human generation.
12/29/2018
How Hawaii's Volcanoes Could Help Us Find Life on Saturn's Icy Moon
Gizmodo
Kilauea's historically huge 2018 eruption didn't just transform the southeastern corner of Hawaii's Big Island. Most of the lava wound up spilling into the ocean, creating an enormous new undersea delta that hardy ocean microbes are already colonizing.
5/30/2018
NASA Dives Deep into the Search for Life
NASA
Off the coast of Hawaii's Big Island and more than 3,000 feet beneath the ocean surface lie the warm, bubbling springs of a volcano—a deep-sea location that may hold lessons for the search for extraterrestrial life.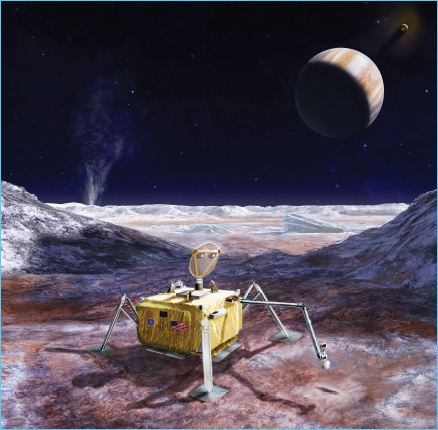 12/11/2017
Exploring ocean worlds on Earth and beyond
Nature Geoscience 
The exploration of ocean worlds in the outer Solar System offers the opportunity to search for an independent origin of life, and also to advance our capabilities for exploring and understanding life in Earth's oceans. (Open as pdf.)